Northwest ENT and Allergy is made up of a team of professionals dedicated to providing the best quality healthcare in a responsive and caring environment. Our otolaryngologist is board certified with years of experience in the profession. He and our physician assistant work in concert with our nurse and office staff to understand your health issues quickly and apply the appropriate treatment to get you back to your optimal health.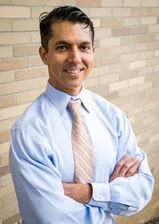 Dr. Adrian Varela
Board Certified in Otolaryngology & Sleep Medicine
Dr. Varela completed his training in Otolaryngology-Head and Neck Surgery at Duke University Medical Center, Durham, North Carolina in 2004. His undergraduate and medical degrees were both completed at the University of Florida in Gainesville, Florida. Dr. Varela has practiced in the Portland metro area since 2004. He founded Northwest ENT and Allergy in February 2007 to provide easily accessible, community-based ear, nose, throat and allergy care for the entire family.
Dr. Varela enjoys seeing a wide variety of general otolaryngology problems, and his particular interests are pediatric and adult allergy, sinus, sleep and swallowing disorders. His office is equipped for a full range of inhalant (pollen, mold, dust, dander) and food allergy testing as well as endoscopic evaluation of sinus, swallowing and speech disorders. Home sleep testing for sleep apnea and office-based procedures for snoring and nasal blockage are also available.
Dr. Varela strives to provide an office setting that is comfortable and relaxed. Generous appointment times ensure that each new patient receives a thorough evaluation without feeling rushed or pressured. In his free time Dr. Varela enjoys spending time with his wife and two young daughters. They enjoy spending time in the outdoors and all the great food, music and cultural events the Portland area has to offer. He is enrolled in the healthcare MBA program at OHSU and PSU. Cycling, running, traveling, beer home-brewing, college sports and Trailblazers basketball are some of his other interests.
Certifications:
American Board of Otolaryngology-Head and Neck Surgery: Otolaryngology and Sleep Medicine
American College of Surgeons Head and Neck Ultrasound Course
Oregon State Medical Board
Washington State Medical Board
North Carolina Medical Board
Professional Memberships:
Diplomat American Board of Otolaryngology-Head and Neck Surgery
Fellow American Academy of Otolaryngology-Head and Neck Surgery
Fellow American Academy of Otolaryngic Allergy
Member Oregon Academy of Otolaryngology
Member Oregon Medical Association
Affiliations:
Mt Scott Surgery Center, Portland, Oregon
Providence Milwaukie Hospital, Milwaukie, Oregon
Providence Portland Medical Center, Portland, Oregon
Legacy Emanuel Hospital, Portland, Oregon
Adventist Hospital, Portland, Oregon
---
Dr. Susan Nguyen
Dr. Nguyen attended Pacific University in Forest Grove, OR for her undergraduate studies. She completed medical school at Virginia
Commonwealth University and completed her Otolaryngology Head and Neck Surgery training at University of Missouri-Columbia.

Dr. Nguyen's fascination with science at an early age, coupled with her desire to work with people, led her to pursue a career in medicine. Dr. Nguyen is a general otolaryngologist, she enjoys all aspects of general otolaryngology and particularly likes working with the youngest patients. She is committed to building solid, long-lasting relationships with her patients and believes a visit to the doctor should alleviate anxiety and answer questions.

She is a native of the Pacific Northwest, having grown up in Portland, OR. She spends her spare time chasing after her dog, Wilbur, and overwatering her house plants. She also enjoys hikes in the forest, camping and spending time with family and friends.
---
Dr. Andrew Baker
Dr. Baker completed residency training in Otolaryngology – Head and Neck Surgery at Oregon Health and Science University. He received a Doctor of Medicine degree at the Medical University of South Carolina in Charleston, SC. Dr. Baker graduated with dual degrees in Physics and Biological Sciences from Clemson University in Clemson, SC. He has always had an inquisitive mind and has been driven to conduct research. In 2018, Dr. Baker was one of 13 residents in the nation to receive an AAO-HNS CORE grant to pursue research in cochlear implantation.
Dr. Baker believes that high quality care relies first and foremost on developing strong patientphysician relationships. He believes that a clinic visit is as much about building trust as it is about developing a treatment plan, and strives to create a safe space for all patients and their loved ones.
Dr. Baker is a comprehensive Otolaryngologist – Head and Neck Surgeon however his areas of focus are allergy, rhinology (nasal and sinus surgery), otology (ear surgery), thyroid and parathyroid surgery, and salivary gland disorders.

Outside of work, Dr. Baker is the proud parent of a rescue dog named Watson, and he enjoys cycling, hiking, and traveling.
---
Katherine "Katie" Kelly, Au.D., F-AAA. CCC-A
Katie completed her undergraduate studies at San Diego State University in Southern California where she received her Bachelor of Arts degree in English. Afterliving abroad, she completed post-baccalaureate studies at Portland State University in Speech and Hearing Sciences. She received her Doctorate of Audiology from Pacific University in Hillsboro, Oregon.

Katie completed her residency program in the private practice hearing aid clinic setting after work in a variety of clinical settings, such as the VA and educational audiology services. She has extensive experience in diagnostic audiology and working with hearing aids. She enjoys helping patients with diverse hearing and balance needs, including pediatric patients, tinnitus, and vestibular impairments.
She believes that "hearing is the basis of communication and quality of life. I love enabling my patients to improve their lifestyles, relationships, and overall well-being".

Katie loves living in the Pacific Northwest where she can indulge in camping trips, kayaking, gardening, and spending quality time with her husband, little boy, and dog.
---
Sanjna Varela, BSN, RN
Sanjna completed her Bachelor of Science and Nursing degree at the University of North Carolina, Greensboro. She has had 10 years of nursing experience in a variety of clinical settings including the cardiac ICU, surgical ICU, and cardiac catheterization lab. She has traveled extensively during her career and spent time in some of the nation's most prestigious medical centers including, University of California San Francisco, Massachusetts General Hospital in Boston, and Duke University Medical Center in Durham, NC. She relocated to Portland three years ago and has worked at Emanuel and Good Samaritan Hospitals in their cardiac catheterization labs.
Sanjna received additional training in the area of otolaryngic allergy and joined the staff of Northwest ENT and Allergy in June 2007. She performs a full range of inhalant (pollen, mold, dust, dander) and food allergy testing as well as incentive spirometry to both pediatric and adult patients. She is excited to bring her experience in the intensive care and cardiac care settings to the outpatient allergy clinic where patients can rest assured they are in safe and experienced hands.
In her free time, Sanjna enjoys spending time with her husband and two young daughters. Other interests include travel, Irish dancing, dining out, and enjoying all the activities Portland has to offer.
Degree
Bachelor of Science and Nursing, University of North Carolina, Greensboro 1997
Certifications and Licenses
Oregon State Board of Nursing
Basic Life Support
Advanced Cardiac Life Support
Pediatric Advance Life Support
Advanced Training
American Academy of Otolaryngic Allergy Basic Course, 2007